Autor: Mooliczek dnia 2014.02.21
Rimpfischhorn, 4199 mnpm, Pennine Alps
Route: WSW ridge, from Täschhütte, PD+
Date: 2013.07.21
After our adventures in Italy and our idleness in Chamonix we decide to set off to Switzerland, with an aim to conquer two beautiful mountains, which we have been thinking about already for a long time: Rimpfischhorn and Zinalrothorn.
The first in our sight (or fishing rod?) is "the Fish". And from the very beginning we already know that there will be some adventures: on the road uphill to Täschalp our car hardly works and gives us straightforward signals that its cooling system needs an inspection. With our hearts in our mouths we barely manage to reach Täschalp at last. In the late afternoon, after parking our car on probably the only free car park in Switzerland, we fall asleep even before the sunset: the stress connected with the journey up here and some kind of a personal resistance to this country have exhausted us. Fortunately, the morning brought better moods. We do not hurry too much with leaving the car, because the plan for today is only to reach our bivy spot over Täschhütte, what shouldn't take us more than 2 hours. And it turned out like this. We put up our yellow "house" in a charming place at 2900 m, close to a huge rock with a cross. At last we don't have to dig in snow to build a platform for our tent! Our butts won't freeze! Ahh!
 Life in a "base camp" apparently consists of waiting and eating. We do both. With only one difference – I run about the vicinity taking photos of flowers while Igor is making a floor in our "hall". The result is satisfactory in both cases.
Next day our alarm clock rings at time normal people are usually in the middle of a party. The approach to Rimpfischhorn from our camp will be long and the weather forecasts threaten us with afternoon storms. Thus we set off in the direction of Alphubel glacier at 2:40 a.m. and our only companion seems to be the full moon.
The path which goes along the moraine is visible even at night. After getting on the snow-covered part of the glacier we fortunately manage to find a trail leading in the direction of the descent to Mellich glacier. We go down about 100m; the descent is rocky, steep and "scrambling", it's good to be even more watchful making each step. Here we locate two other teams, who have planned to pitch their camp much higher than us, that is exactly by the descent route to the other glacier, which they've already reached. Here Rimpfischhorn reveals itself to our eyes in its full beauty. Thus we choose our direction.
Just after reaching Mellich glacier the route bends left and then right, passing round densely cracked, crevassed terrain. We make a traverse of practically the whole mountain at its base in the west , we pass a spur of a sharp rocky rib descending from the north ridge and we move towards Rimpfischsattle – a pass between west (so called winter – entirely snow formation, 4009 m) and the proper summit of Rimpfischhorn. Multiple avalanche debris on the way (and also on the pass itself) make us realize that in the afternoon it will be slushy here. However this view doesn't give me strength as it usually does, I feel weak what is the effect of poor breakfast (I'm a woman and I took not enough food… unbelievable!), for what I have been reprimanded by my compagnion even before we have left the tent.
Finally we reach the pass, what – I must admit – have been quite tiring. Several teams who were rushing with their guides have considerably moved closer to us thus Igi runs quickly into a snow gully to keep the safe distance.
However, putting safety aside, the couloir is a place in which your mind should be particularly focused, beacause it is quite easy to miss the turn left into a traverse, which is supposed to lead to a rocky rib. The couloir invites us to climb it to the very top but this is the wrong option, a dead-end leading to nowhere (that day we saw parties, who didn't have that in mind). After reaching the rib we put our gear on and Igor starts leading. Climbing is pleasant and interesting (max II in the UIAA scale), rock is solid and well-stratified, in two or three places iron rods appear which can be used as placements, here and there there are also belay stances made from slings and cords. It starts to get crowded on the way, two teams with guides which are quicker get ahead of us (we let them go eagerly, since they are at work) other teams arrive on the pass – well it's the weekend…
Finally we arrive at the fore summit, from where in easy terrain we reach the main summit. It's crowded around the cross, a guy of a huge posture and mass first gives some primitive shouts, which can probably be heard down in Zermatt and then he takes out sliced bacon and fills his mounth with it to its limit… Yuk. Disgusting. Nonetheless – not my kind of aesthetics.
Fortunately, looking ahead, the views turned out to be completetly different: the panorama of the whole Wallis and far-off Mont Blanc. Quite pretty!
We take several photos and we start the descend. We feel, that we enter a battlefield. Some people go up, some go down, some go on the rib, some rappel down, it's a torment… After leaving the foresummit, we decide to go round the first part of the rib and we go orographically right to a small, covered with ice chimney. I go first, belayed by Igi from above, who then goes after me, cautiously, as a grasshopper on rice paper… Pieces of ice and rocks that are thrown down by other teams start to fall from above. One of the pieces strike Igor hard on his leg, fortunately it ended only with a bump and a bruise…
We descend a snow-ice terrain towards a stance, from which we traverse left (orographicaly), thus going back to the rocky rib, which we have climbed before. Here we start a descent with short rope and simul- belay, strenuous, interuppted with a lot of bypassing and multiple stops, however it was quite ably. Finally, we arrive on the snow traverse and the snow couloir, which we descend fast in order to leave this terrain from which everything simply starts to flow down in the forenoon heat as fast as we can. At 12.00 a.m. we are on the glacier. Before us there is still a hell of a way to our tent, two glaciers and a moraine, but the clue of the issue is done, the mountain was (a nie "present perfect"?) climbed. We arrive at our camp after 3 p.m. and we are really tired. But because of the view that we have from here, it's quite obvoius that we start to think about the next target that we want to do during our vacation – located on the other side of the valley – Zinalrothorn…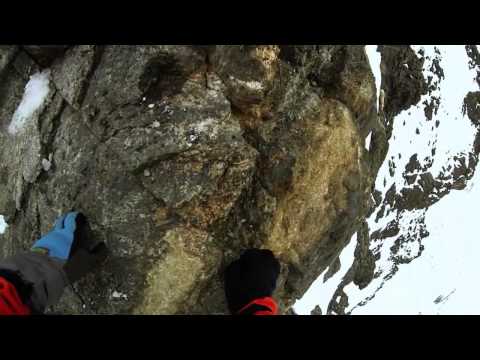 :Alpy, Czterotysięczniki alpejskie, Rimpfischhorn